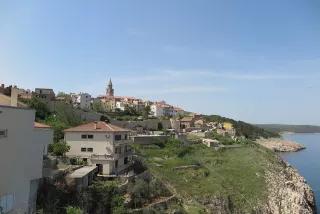 Despite a long tradition of cooperatives in Croatia, the first renewable energy cooperative (REScoop) was established on the Island of Krk only five years ago. Implementation of renewable energy projects in Croatia often faces various administrative barriers – this is why the island's local community (citizens, local authorities, NGOs, small businesses and public utility services company) came up with the idea of forming a cooperative. The Island of Krk Cooperative has been working on achieving their mission of making Krk the first Croatian ecoisland since 2013. The cooperative approach resulted in lower costs for equipment and for obtaining permits for rooftop solar PV for more than 50 households. The investment costs went down due to the scaling-effect coming from many individuals working together to install many small solar PV systems. The cooperative also developed one 137 kW solar PV power plant, and have more planned for the future (according to their Strategy for Zero-Emission Island), including a cooperatively owned wind farm, CHP plants and an Educational Centre for RES.
Croatia's first energy independent school
The elementary school in Kaštel Lukšić is a member of a local REScoop and its rooftop is covered in solar PV. A small solar power plant (22 kW) and energy efficient lighting made them the first energy independent school in Croatia. The project was initiated by Energy Cooperative Kaštela and United Nation Development Programme (UNDP) in Croatia in 2014 and the investment was funded by citizens, REScoop members, local authorities and private local companies. This is one of the first examples of local citizens forming an energy cooperative to implement a specific RES project in Croatia. Moreover, the project was funded without government subsidies, introducing a new business model that can also be applied in other schools. Within this project the first Croatian donation-based crowdfunding campaign1 for RES was carried out. Money saved on energy bills is being used to increase the quality of education (new computer labs, excursions, etc.) and school children from Kaštel Lukšić got the opportunity to learn about RES and energy efficiency through first-hand experience. In 2017 the school claimed their first SolarCoins (1 coin for every MWh electricity generated from solar source), motivating their pupils to learn about blockchain technology and alternative finance.
Citizens as investors in green energy
After crowdfunding for RES was introduced in Croatia within the project for an energy independent school, the City of Križevci wanted to encourage their citizens to invest in local RE production. In 2016 the city, together with the Križevci Entrepreneur Centre (KPC) established the Development Centre and Technological Park Križevci, promoting small- and medium-sized entrepreneurship in the food, metal processing, wood and ICT sectors. In order to help the city to boost this initiative, Green Energy Cooperative (ZEZ) developed a project idea for the first crowd investing fund for RES in Croatia. Within this initiative a rooftop solar PV system of 50 kW has been designed for the administrative building. The system would meet some of the energy needs of the building and generate monthly savings on the cost of electricity. The capital investment will be co-financed by citizen-investors (loan-based crowdfunding intended to attract citizens who would otherwise put their money in savings funds), the cooperative members and the local authority. The main objectives are to encourage development of small-scale solar PV for own consumption in Croatia (net metering scheme for public buildings, small and medium enterprises etc.), and to introduce alternative finance models into the Croatian energy sector, as well as laying ground to implement blockchain-based pilots in local communities.
Citizen power and the democratisation of energy
There are still many obstacles in Croatian energy legislation to the proper deployment of renewable energy. The quotas for wind and solar energy deployment have had a negative effect on further development of renewable energy in Croatia, particularly on the increase of citizen-owned energy and the development of energy cooperatives. For example, development of solar is currently stalled mainly due to the lack of increase in the PV quota for the feed-in tariff scheme (the set quota was reached), and prosumers and net metering are still not widespread notions in the country. Croatian islands have an extremely high insolation level of 2,300 to 2,800 sunshine hours per year and vast solar energy potential remains locked-up by unfavourable energy policy. Slovenia, for example, has more than 10 times as much installed solar capacity per capita than Croatia. The current subsidy scheme has become an obstacle to expansion of renewable energy, and new models are necessary for successful energy transition. At the moment, legislative changes for smallscale RES for self-consumption are being drafted and they could bring huge positive change, by encouraging citizen-owned energy and by removing administrative barriers for RES (with a focus on small solar PV and biomass co-generation plants). Citizens organised in an energy cooperative can become a local core of know-how in renewable energy projects and use gained experience for further implementation of community energy. Community energy allows citizens to be directly involved in ownership of or decision making for local projects and can bring financial benefits from RES back to the citizen. Local RE potential is utilised to encourage growth of the local economy, while community energy is encouraging cooperation, social innovation, education, improving local services and local job creation. Although the energy cooperative success stories introduced above are inspiring, Croatia is still making its first steps towards citizen-owned energy. Public interest in renewable energy is quite strong but RES projects are still reserved for 'big' players – wealthy individual investors and companies, which have the human and financial capital required to overcome administrative difficulties. The United Nations Development Programme (UNDP) in Croatia initiated a project in 2013, 'Energy cooperatives in Croatia'2 , to introduce, test and encourage development of REScoops. As a result, there are today nine energy cooperatives in Croatia, operating as energy startups and all of them are experiencing difficulties in carrying out their RES projects because of the current business climate. Business opportunities for energy coops lay in linking energy and agriculture – several thousand Croatian citizens are members of agricultural cooperatives, generating big potential for building competitive business in deprived rural areas (for example, by implementing renewable energy solutions on family farms).
Local authorities in energy transition
Cities and energy cooperatives can join forces to boost the local economy. Green Energy Cooperative (ZEZ)3 , a Croatian energy coop with the mission of empowering local communities through use of local resources, is working with local authorities to meet their energy and climate goals. ZEZ is partnering up with Energy Cities4 in the implementation of the initiative Covenant of Mayors in Croatia. Energy Cities carries out activities aimed at discussion and development of solutions in the process of accelerating the energy transition of European cities and municipalities (in over 1,000 cities in 30 EU countries). All activities are based on innovative approaches, new ideas and new practices, aimed at active and continuous involvement of local and regional administrations  and citizens themselves in the fight against climate change.
Energy cooperatives fighting energy poverty
A project funded by the European Social Fund, 'Good Energy in Social Entrepreneurship' is currently being implemented by ZEZ and the Craft College in Croatia. ZEZ fights youth unemployment as well as energy poverty – a team of the cooperative will train 30 young people from three Croatian towns. The project idea is to improve energy efficiency in energy poor house - holds through use of tips and energy efficiency measures, carried out by young and long-term unemployed persons qualified as energy efficiency advisors.
Energy cooperatives as a well-established concept in the European Union
A sustainable energy transition in many EU countries is based on engaging and empowering consumers. Energy cooperatives in Europe first emerged in Denmark in the 1970s, in response to the oil crisis and the envisaged transition to renewable energy sources. Today, the concept of community energy is well established in the country – by 2004 over 150,000 citizens of Denmark were members of energy cooperatives, jointly owning more than 75% of installed wind capacity in the country. Many European countries recognised REScoops as a tool for long-term improvement in the economy, and have made energy cooperatives a common practice, for example Germany, Netherlands, Belgium and Spain. In Germany, almost 50% of installed renewable capacity is in the hands of citizens, energy cooperatives and farmers while big utilities own less than 6% of installed RES, and only a few years back they were oligopolies in the electricity production. REScoop.eu 5 is the European Federation of Renewable Energy Cooperatives, linking 1,500 European REScoops and 1,000,000 citizens, members of energy cooperatives.
Energy cooperatives getting introduced in the Western Balkans
A comparative study on energy cooperatives in Eastern Partnership countries and the Western Balkans have been developed 6 by WECF Germany and ZEZ in 2017. The study focuses on REScoops as one important instrument for community energy and renewable energy transition in these regions. Important variables in introducing and promoting energy cooperatives include: government support mechanisms for RES and community energy projects, drafting new strategies and action plans, changing attitudes towards the cooperative model, and promoting local energy activism. GIZ Office Bosnia and Herzegovina is currently conducting the project 'Promotion of Renewable Energy in BIH', designed to create and strengthen the framework preconditions for the increased use of RES in BIH. Within this project, ZEZ is developing effective business models for financing RE projects and inclusion of local communities in RE projects, and recommendations for a legal framework that encourages community energy in Bosnia and Herzegovina. This cooperation will foster exchange of know-how and best practices between the countries.
Policy support for community energy
The 'Winter Package' of the European Commission (Clean Energy for All Europeans) 7 , states that new energy policies cannot be implemented without the support of citizens. National policy decisions have a strong impact on the development of citizen-owned energy and energy cooperatives. Local governments can also do much to advance support for community energy. The Scottish government set a target of 500 MW of community and locally-owned renewable energy by 2020 and, through systematic financial and technical support, the goal has already been reached. In Denmark, for example, a citizen needs simply to sign a few documents to become an energy cooperative member and buy a share in a wind power plant. Wind farm developers in Denmark are obliged to offer shares worth at least 20% of the total project to the local community. Croatian legislation does not look favourably upon active citizen participation in the development of renewable energy. UNDP Croatia, in cooperation with international and national partners, drafted recommendations to encourage the development of energy cooperatives in the country in 2015. 8 Southeastern Europe 29 These guidelines are designed to help improve legislation and encourage citizen participation in renewable energy projects. Inspired by the Danish cooperative model, Croatia can make it obligatory to offer citizens shares in commercial RES projects. Croatia can also introduce net metering with a netting period of one year and with better administrative support for households, based on good practice from Slovenia and the Netherlands. Additionally, based on the UK experience, Croatia could designate a special quota for community renewable energy (e.g. for wind and solar). Simply providing information is not enough - citizens should be actively involved in the decision-making process and energy ownership for the renewable energy transition to be successful Renewable energy development in Croatia and the Western Balkan countries should be led by citizens and local renewable energy cooperatives, rather than big (often foreign) investors and companies. This way benefits generated from the local potential remain in the hands of the local community. Most of today's cooperative members in Europe are motivated citizens focused on generating change in their local communities. Renewable energy should not be seen as another obligation imposed on our struggling economies by the European Commission, but rather as an opportunity to address social, economic and environmental challenges. Only citizens can transform our import-dependent energy system and protect out waters, air and soil – by choosing an alternative to dirty and expensive fossil fuel-fired power plants.